Kerri Mohrman
Tips to help you maintain a healthy house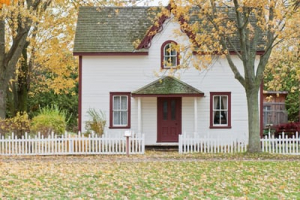 Being a homeowner comes with a slew of responsibilities. Your home is another family member. As a family member, it requires care and attention, or you will pay for it later. Getting homeowners insurance is just the first step in building a safe and secure home. The longer you live in your house and the more wear and tear, aka memories you make there, the more repairs it requires. Maintaining your home can prevent insurance claims and, with that, the deductibles you would have to pay for those claims. Homes that have been maintained well also can transition between carriers much easier.
If you think of your home as another family member, then think of keeping it healthy from head to toe, or from roof to roots. Here are a few tips that can help you maintain a healthy house!
Roof Health:
Roofs are a major priority for all homes. They protect our homes from the elements. Keeping your roof free of debris can help prevent rotten, damaged or discolored spots. Sweeping your roof every month can be an easy chore you can add to your monthly list. Clearing away low hanging branches can also help maintain a healthy roof and prevent extensive damage during bad weather. If you have gutters attached to your house, clean them out once a month to keep water flowing properly and not pooling up in unwanted spots.
Structure Health:
"If these walls could talk," is a line quoted frequently when people talk about their homes and the places they have lived. The interior and exterior walls of your home surround your family and need your care and attention as well. Do a walk around your home and notice if there is landscaping that has grown up too close to your house that could provide a place for moisture or bugs to live and grow. Clear away bushes and vines that have grown up against the outside of your home. If you have a wood-framed house, keep up with your termite bond, and replace any rotten wood. In the inside of your home, it is important to know which walls are connected to water lines for your sinks, washing machines, AC, etc.. Always keep an eye out for leaks or misplaced water.
Water Health:
Running water has added a commodity that most of us would never choose to live without. But water damage can cause a large amount of insurance claims. Whether it is a leaky faucet, a busted pipe or a machine malfunction, water damage can spread rapidly. Make a habit of checking under your sinks, checking your toilets, faucets and water connections to make sure there are no water issues. This is a little habit that can save you a headache down the road. Another water-related tip is knowing when to invest in a new water heater. The average age of a water heater is between 8 -12 years. Your water heater should have a date on it so that you can easily see when you need to replace it. Replace it on your terms, not on its terms.
HVAC Health:
Heating, ventilation and air conditioning have made our home temperatures comfortable and cozy for our families. If you have never experienced what it is like when you don't have heating, AC or proper airflow, then I hope you never will. These comforts need our attention to continue to bring comfort. Regularly check and replace your ac/heating filter. During hot months, it is a good idea to check that your AC is draining properly. If your unit is in an attic or a very hot space, it can sweat too much and cause dripping. Check the pipes running from your AC to the outside for any clogs or drainage issues. Pouring a bit of hot water and bleach through the pipe can help with any mold or mildew that has built up there.
Though some of these maintenance tips may seem simple and basic, they will keep your house healthy and may prevent those home injuries no one is ever happy to deal with.