Barbara Caton
Safeguarding Your Valuables, No Guard Dogs Required
Valuable items insurance not only protects your valuables but also the stories and experiences within them. We know losing a sentimental item can be tough to bounce back from. But, an emotional loss doesn't need to be a financial one. In this article we look at the importance of valuable property insurance to protect what matters most to you.
Your valuables tell a unique story
Ever think of the irreplaceable items you've acquired over your lifetime? You know, your jewelry, fine wine or rare collectibles. How about your ancient artifacts, fine china or original artworks? If so, then you're reminded of the story each tells about your passions, travels and adventures. What about your engagement ring? It holds memories of a special moment in your life. But, ever wondered how much you'd miss if any of these treasures were gone?
The estimated value of lost items in the US is over $5 billion per year.

Lostings | www.lostings.com
---
Limitations of your homeowners policy on valuable items
You may be saying to yourself… my homeowners insurance would cover my valuable property, right? Well, this is often not the case. Relying on your homeowners policy could mean paying out of pocket if your valuables are lost, stolen or destroyed.
While typical homeowners' policies are designed to protect your home and what's inside, there is usually limited coverage for valuable possessions that may get lost, stolen, or damaged.

Chubb | www.chubb.com
You see, a homeowners insurance policy is mainly for the house itself, general contents and some personal liability. But when it comes to your jewelry and art, the coverage may cap out at $1,000 to $5,000.
Here are some sub-limits found in a standard home insurance policy:
– Theft of jewelry, furs, watches, precious and semiprecious stones: $1,500
– Theft of goldware, pewterware and silverware: $2,500

Forbes | www.forbes.com
If your valuables are worth more, then it's time to think about valuable property insurance for the irreplaceable items. Caton Hosey Insurance can answer any questions you may have about valuable items coverage. Speak to a knowledgeable agent!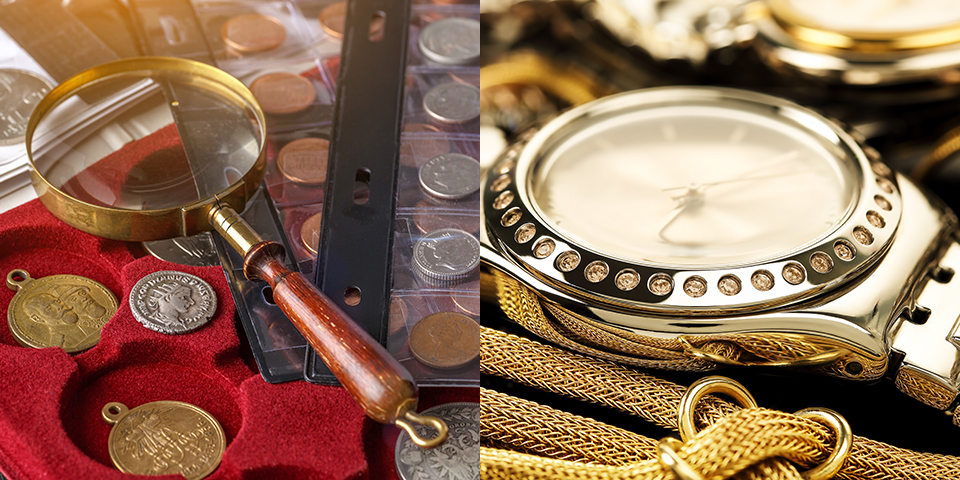 Don't let those memories slip through your fingers
As your number of valuables grow, you need insurance that fits you. Your favorite items can be covered at home as well as when you travel around the world. An experienced agent can assist you with the right policy for serious peace of mind. Whether it's a one-of-a-kind painting or the heirloom gold bracelet that was handed down from grandma. Let's lake a look at some of the benefits of valuable items coverage.
Fragile items covered!
Breakage of fragile items like fine china, porcelain, pottery and crystal. Your homeowners insurance may not include the "oops" moments with delicate items. But with the right policy, you'll have automatic coverage for those accidental breakages.
Vanished items covered!
Many homeowners policies skip coverage for items that, in some way, have vanished. These are also known as "mysterious disappearances". But with a valuable items insurance policy your covered for misplaced, lost or stolen items. Even the jewelry that somehow disappeared is covered for replacement.
Seamless collection covered!
If you have all your valuables itemized and listed on your policy already, and you add something new to your collection, you're still covered. A solid policy makes it easy by automatically covering your recently acquired similar items for 90-days.
Market value assurance!
No need to worry if just before a covered loss the market value of an item on your policy is more than your coverage amount. A good policy will pay what the market value is right before the loss. In fact, you get up to 150% of the coverage amount for that item but not more than the maximum coverage amount. So, you're covered and then some.
Flexible appraisal options
Some insurers have more liberal appraisal requirements for valuable possessions than others. For example, appraisals for individual jewelry valued at less than $100,000 and fine art pieces valued at less than $250,000 may not be required by some providers. Just an accurate description with a photo and the estimated value will do.
Ask your Caton Hosey Insurance agent for more information.
Make sure your valuables are covered properly
Get top-notch valuable items insurance that goes above and beyond.
Secure a covered total loss before it happens. Because the upfront value of each item on your policy is determined together, you can be ensured a full cash amount of the item's value when a loss occurs. No need to worry about deductibles or depreciation.
Insuring your sets, pairs and parts is smart coverage. You can choose the replacement cost for the complete set by providing the remaining item(s). Or, you can keep what is left and get the replacement cost for just the lost item.
Choosing blanket coverage is an ideal insurance solution to protect both your cherished fine china settings and your sterling silverware.
Valuable articles coverage worldwide
Valuable items property insurance can cover you globally for pretty much any kind of loss. Most good policies do and with no deductible or money out of pocket. You can include coverage for when your delicates break, items go missing, or you get new treasures. A personal articles policy can even cover your rare artifacts and jewelry while in a vault.
A lower insurance premium
You may be able to enjoy a lower insurance premium if you generally keep valuables like expensive jewelry in a bank vault.
Get a free quote from Caton Hosey Insurance on your valuable items insurance coverage.
---
Proper care for your valuables
Taking good care of your fine art or antique collection might seem complicated. Caton Hosey Insurance has you covered there too with access to a range of services that go well with a valuable items insurance policy. Speak with a true professional about your collection.
Collector specialists are like your personal team of experts for keeping your treasures safe and sound. They can help you care for your collections with advice and guidance on:
Display conditions
Fire protection
Preserving your collection
Security recommendations
Storage and conservation
Get access to the experts who can address your specific concerns about your unique items. Complimentary referrals through our partner network in all sorts of specialties are available:
Appraisals
Art framing
Conservation
Fire prevention
Inventory
Restoration
Security
Shipping
Storage
Contact Caton Hosey Insurance today to arrange a consultation with a local collector specialist.
---
Closing
Insuring your valuables is more than just protecting possessions; it's safeguarding the memories, sentiment, and uniqueness they each hold. Whether it's a cherished heirloom, artifact collection, or a set of golf clubs with stories of their own, the right valuable property coverage ensures peace of mind as well as financial security. Remember to assess your needs, explore coverage options, and lean on experienced professionals to tailor a plan that suits you best. Here's to safeguarding what matters most!
---
Caton Hosey celebrates over 7 decades of service
You can trust Caton Hosey Insurance to guide you in making smart insurance choices so you can live life with confidence. Our goal is to ensure that an emotional loss doesn't turn into a financial burden. Count on us to help you with top-notch service and a range of coverage options. Caton Hosey Insurance has been serving Port Orange and the Daytona Beach for over 75 years. We're here to help you safeguard those special things you've come to love. Call us at 1-800-767-3161 or send us an email.
---
Sources
---
More reading
---